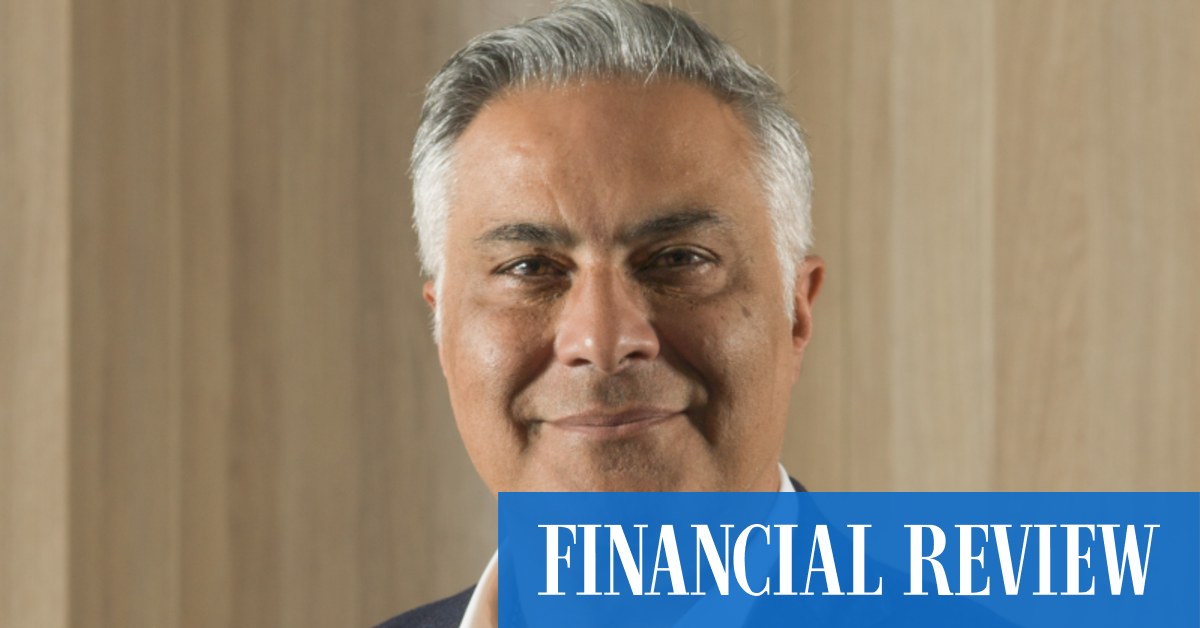 Fahour's Latitude envisions a future where your avatar gets a loan
Latitude has 2.8 million lending customers and aims to increase that number to 5 million when it completes the acquisition of Humm this year. Humm operates a similar installment payment model and offers merchants buy-it-now, pay-later services on a smaller scale.
Although great uncertainty hangs over the non-bank lending sector – shares of Latitude are down about a third since listing at $2.60 last year – private equity groups such as KKR are preparing to one of the biggest changes happening in banking. Non-bank and digital lenders are stepping in to fill the void created by the big guys, who are increasingly refusing to lend to people like the Fahours because they don't have a home to offer as collateral for their loans.
Cross-selling to customers
Currently, 80% of Latitude's personal loans come from cross-selling to customers who use its installment or buy now, pay later products, and acquiring Humm would potentially double its customer base. Buy now, pay later is only a tiny fraction of its profits, but Latitude sees it as a necessary tool to acquire younger customers who it hopes will transition to personal loans.
"[We are] the fifth largest consumer financial institution in Australia and we're not that far behind [the big four]. I think you will find that the big banks each have between 6 and 9 million customers," says Fahour.
"We went from number 5 when I joined Latitude in Australia to now be the second largest personal lender in Australia and New Zealand for personal loans. It's a massive, massive shift," he says.
Fahour was tasked with transforming Latitude from a sideline player into a recognizable and trusted mainstream brand.
He may not be liked by everyone, but some of those who have worked for him say he is the right person for the job, noting his energy and his ability to take his colleagues with him.
"Ahmed is a force of nature," says Janelle Hopkins, chief operating officer of REA Group, who left National Australia Bank to work for Fahour while at Australia Post.
"It paints a really compelling vision of what the possible could be. He's a very strategic guy and you can see how he wants to transform the business.
Chris Blake, who has worked with Fahour three times, including at Latitude Financial, says: "He has very high expectations of himself and therefore he has high expectations of the people around him. It's part of the appeal. He chooses incredibly challenging yet interesting makeover missions, and then he selects the people he needs to make them happen. »
Fahour is at his most lively discussing the future of banking and opportunities for tech-focused companies.
"Trust in institutions is at an all-time low. Trust in authority figures is at an all-time low. And so right now you have people thinking of a lot of institutions and leaders the same way they think of a used car salesman," he says.
Decline in confidence
This decline in confidence, he argues, has been a catalyst for the development of decentralized finance. DeFi, as the phenomenon has become known, involves replacing financial intermediaries such as banks, brokerage firms, and exchanges with blockchain and other internet technologies.
Fahour is unequivocal that the fortunes of the big four banks are set to reverse within a decade.
"Without a doubt, without question, without question, you will find that the biggest financial institutions will not be the big four banks. Some may continue to survive and thrive. But due to the evolution of technology and the way it evolves, it is very likely that the [big] four will be disputed. It is emerging before our very eyes," he says.
Fahour cites organizations such as Block, Stripe and others that are using technology to strengthen themselves in the bread-and-butter business of banking, transaction banking.
Latitude isn't tempted to chase after that pie, Fahour says, and it remains focused on its core business of lending to customers who don't meet banks' strict criteria. But the company is also leaning into the metaverse and exploring how it can support its consumers in a decentralized financial system.
"We have a huge data lake in our organization, where we better understand how consumers want to interact with us. And what do they need to achieve their ambitions? You can imagine a world where a personal loan will take place in a digital environment and if you really want to be futuristic, think about how you will make a loan in the metaverse, with your avatar going to the bank? Fahour said, his eyes widening at the possibility.
He is thinking big and forward-looking, but analysts are watching the cycle of rising interest rates more closely, which will increase the cost of funds for non-bank lenders. Its limited free float – less than 20% of the company is publicly held – weighed on the share price.
I don't want to give customers access to money without doing a credit check.

— Ahmed Fahour
An analyst, who declines to be named, says Latitude is likely better positioned than its non-bank counterparts as its margins are more defensive in a rising rate environment, but it could also suffer from rising defaults. The acquisition of Humm, he says, will bring operational efficiencies and is viewed as an overall positive.
The company's LatitudePay product, which competes with Afterpay and Zip in smaller ticket buy-it-now, pay-later and bill merchants rather than customers, will be rolled out under Humm and its associated bundll brand.
Fahour is cautious about this unregulated space, where other companies have resisted credit checks.
"I don't want to allow customers to access money without doing a credit check. We only do this if there is a credit check.
Many competitors of Latitude and Humm claim that checking a customer's credit score can harm their ability to get credit in the future because small items mark the credit file and make it look like they are desperate for loans, which hampers their ability. to obtain mortgages and other large loans.
But Fahour says customers who default on even small purchases with individual buy now, pay suppliers later should get blackmarked, to avoid funneling bad customers — and bad debts — through the system.
"I want it to have an impact [the credit file] and I want people to know it's done right and reasonably. The problem is that if consumers, and this is actually a pretty scary problem in America, realize that the loan doesn't show up and they don't register, they can drop that loan and the next lender that happens don't I realize you've been lacking," he said.
"I don't accept any of this marketing gibberish that what we're doing isn't lending money. We lend people money and everyone who lends money must act responsibly.
Reservations about the potential for predatory lending aside, it's clear that Fahour thinks the technological revolution – which he compares to the industrial revolution – sweeping through the financial sector will bring huge benefits to consumers.
What should companies do to retain this new generation of customers?
"Give them something they want. It's pretty simple, actually. The banks were built and said that's what we have to offer," he says.
"Now it's the customer who says to a financial institution: 'Jump!' and your answer is, 'How high?' You have to adapt to the customer's needs because there is no supply constraint on the availability of money. You must do more than just say, "I have money to give you. You must be able to add value to the person.